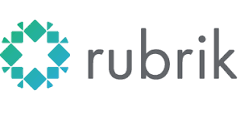 World's First Cloud Data Management Company

Rubrik has developed the world's first Cloud Data Management platform for data protection, search, analytics, archival and copy data management for hybrid cloud enterprises. Fortune 500 companies use Rubrik to manage data at scale while realizing data-driven services anytime, anywhere. Rubrik has been named to Gartner's Cool Vendors in Storage Technologies, 2016.
Solutions:
Rubrik simplifies data management—from backup, disaster recovery, archival to search, analytics, copy data management—with a single, scale-out fabric that protects, manages, and secures your data everywhere. Unify all your data (virtual and physical) in one globally indexed namespace. Access your data quickly with predictive global search. Backup and orchestrate mission critical data with a single declarative policy engine in an API-first architecture. Secure your data everywhere with encryption and role-based access while delivering automated compliance in one solution. Use Rubrik for:
Backup & Recovery – Deliver instant recovery without rehydration or additional storage provisioning.
Replication & DR – Use the same policy engine to automate both backup and replication.
Data Archival – Swipe to automate long-term retention to lower cost object storage tiers or public cloud.
Remote & Branch Office – Use Rubrik Edge, a software appliance, to extend data protection to your remote offices.
For more information about Rubrik Products and Services, please contact: