Arria for BI - Augment visual analytics and all underlying data with rich NLG narratives
Arria for BI is available for all major Business Intelligence platforms. Select your preferred application below to begin adding intelligently generated narratives to your dashboard, and augment your visuals with instant insights and unmatched data communication.
Arria NLG Apps - Instant Arria NLG capabilities right out-of-the-box —no-code narrative solutions
Arria Answers - True multi-turn, Conversational AI "ask your data a question and get answers"
Arria Answers is a conversational-AI platform that integrates with business intelligence dashboards and Amazon Alexa— giving businesses real-time access to key insights from data – using natural, spoken language. A true breakthrough! Arria Answers brings together Arria's foundational experience in natural language generation and insight analytics with other natural language technologies (NLP, NLU and NLQ). This combination delivers true multi-turn drill-down capability to maintain the conversational context, which makes talking to your digital assistant fluid and natural.​​​​​​​
Arria Connect - Integration SDK pre-built and customizable to add Arria inside any API platform
Three Ways to Connect Arria's API-based architecture allows other technology platforms to connect seamlessly:
Arria Connect - Direct API Call From any application that can communicate via HTTP, make a simple API call to ingest data and return narrative. Use to create a dynamic narrative from consistent and structured data sources (JSON, CSV).
Arria Connect SDK - Speed up your NLG development work using Arria's pre-built libraries. This software development kit greatly accelerates the embedding of NLG add-ins in BI tools or dashboards. Use Arria Studio functionality to generate natural-language narratives from data in your own applications. The SDK even includes a ready-made UI component, which — if implemented — gives end users the ability to configure their narratives from scratch, use Arria's NLG Apps, and even interact with their data using a chat interface, Arria Answers.
Arria Connect Headless API - Use this subset of what is provided with the Arria Connect SDK when you don't need to implement a UI (for example, process automation). This option gives you an accelerated path to call either custom Studio projects or out-of-the-box projects.
Arria for RPA - Augment UiPath and other RPA platforms with Arria automated NLG-reporting
Using these two technologies together gives enterprise-level clients the ability to dramatically transform their operating models and gain a competitive edge in the marketplace by significantly accelerating their automation. On the RPA side, this results in better accuracy, improved compliance, massive cost savings, super scalability, increased speed and productivity; and with NLG, dramatically improved speed and efficiency in their analytics and reporting.​​​​​​​
Arria for Excel - The most widely adopted business tool just got smarter with full NLG capabilities
Arria brings the power of language to the most widely adopted business analytics tool! The use cases for Excel in business are endless. Departments, such as Finance & Accounting, Marketing, Product Management, and HR Management rely on the capabilities of Excel spreadsheets for day-to-day operations, business analytics, data compilation and reporting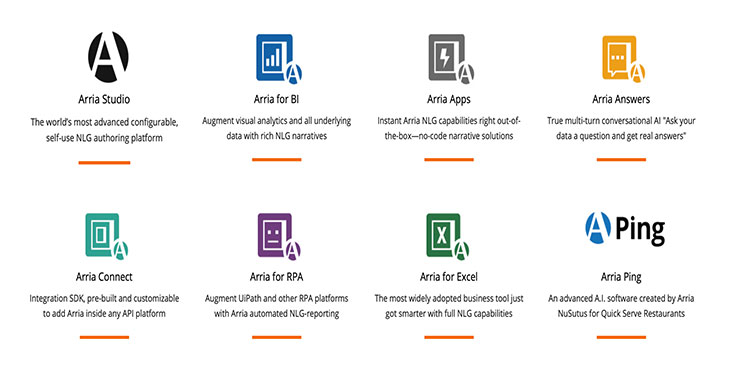 For more information about Arria Products and Services, please contact:
Tweets by ArriaNLG