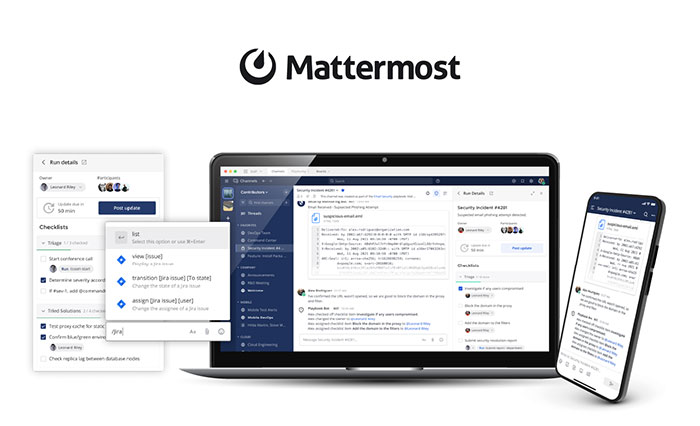 Mattermost is an open source platform for secure collaboration across the entire software development lifecycle.
The Mattermost platform securely powers government operations as the command and control hub for technical team collaboration.
Hundreds of thousands of developers around the globe trust Mattermost to increase their productivity by bringing together team communication, structured process execution, and task and project management into a unified platform for agile software development.
Founded in 2016, the open source Mattermost Platform powers over 800,000 workspaces worldwide with the support of over 4,000 contributors from across the developer community.
Mattermost Government Solutions
Mattermost is the only all-in-one solution for developers to collaborate without sacrificing security. With Mattermost Government Solutions, you can align your teams and manage digital operations with modern, channel-based collaboration while protecting your data with military-grade security.

Mattermost Government Solutions provide a secure, reliable, and scalable collaboration platform to enable you to:
Align your teams, tools, and processes
Connect geographically-distributed team members, tools, and mission-critical processes.
Modernize your operations
Transform the way your teams communicate, collaborate, and operate with digital processes that scale.
Improve team agility and delivery
Help development teams ship better code faster with solutions designed for modern, agile processes.
Ensure Data sovereignty & security
Stay in complete control over your data with an open-source platform that offers self-managed deployments and strict, customizable access controls.
Efficiently execute prescribed processes
Customizable Playbooks with checklist-based process execution, integrated collaboration, and stakeholder communication.
Improve incident resolution
Fix mission-critical issues fast with powerful automation, customizable playbooks, debrief tools, and more.
The Air Mobility Command (AMC) is among the most active users of Mattermost at the Department of Defense. Before deploying Mattermost on Platform One, flight teams for AMC didn't have a way to access critical documents on mobile devices. Pilots and crews could only access these documents from computers at designated offices, which was sometimes impossible when they were in the field during an operation. With the introduction of Mattermost, flight crews can securely access documents from mobile devices anywhere in the world in support of the Digital Aircrew initiative.
Mattermost has also helped streamline pre-flight preparations for the AMC. "For us, using Mattermost offers a huge benefit in mission velocity and safety. We found that it also gave us a lot more time to fix cargo and fuel problems before the crew even shows up at the airplane," says Major Justin Poole, Phoenix Spark Innovation Cell Director at Travis Air Force Base. By using Mattermost to increase the efficiency of pre-flight activities, AMC has reduced fuel consumption and saved money.
The Mattermost platform includes:
Channels:
All of your team's communications in one place. Go beyond general-purpose collaboration to include automation, slash commands, bot integrations, code snippets, and more.
Playbooks:
Orchestrate work across your tools and teams. Playbooks are prescribed workflows centered around checklists that support specific digital operations scenarios and use cases that require reliable and repeatable processes.
Boards:
Plan any project and hit every milestone. Boards are project tracking tools, configured for development teams to maintain alignment through a shared set of tasks, milestones, and goals.
For more information about Mattermost Products and Services, please contact: