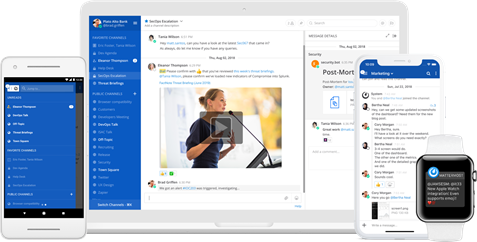 Mattermost is an enterprise messaging workspace for teams to collaborate securely and effectively. Our scalable private and hybrid cloud solution provides a centralized hub for intra-company communications increasing agility, efficiency and innovation. Mattermost's adaptable, open source platform unifies desktop and mobile messaging, integrating with vital applications to enhance personal productivity, team coordination and organizational competitiveness.
Products:
Mattermost Team Edition - Effective workplace messaging with search and integrations, plus web, mobile and PC apps and much more. Our open source edition is private cloud-ready giving you modern communication behind your firewall. Enjoy a superset of Slack's popular features, including Slack-compatible webhooks plus import of Slack channels, users, and even theme colors.
Mattermost Enterprise Edition - All the end user features of Team Edition with advanced security features like Active Directory / LDAP single-sign-on, multi-factor authenitcation, advanced access control and encrypted push notifications. Our Enterprise edition also comes with monthly releases and next business day support.
Mattermost Enterprise Edition E20

- All the end user features of Team Edition and E10, Mattermost E20 offers advanced compliance, authentication, enterprise analytics and data center support for Elasticsearch and high availability servers. E20 can scale to tens of thousands of users while meeting the security and compliance needs of the most privacy conscience organizations.
For more information about Mattermost Products and Services, please contact: